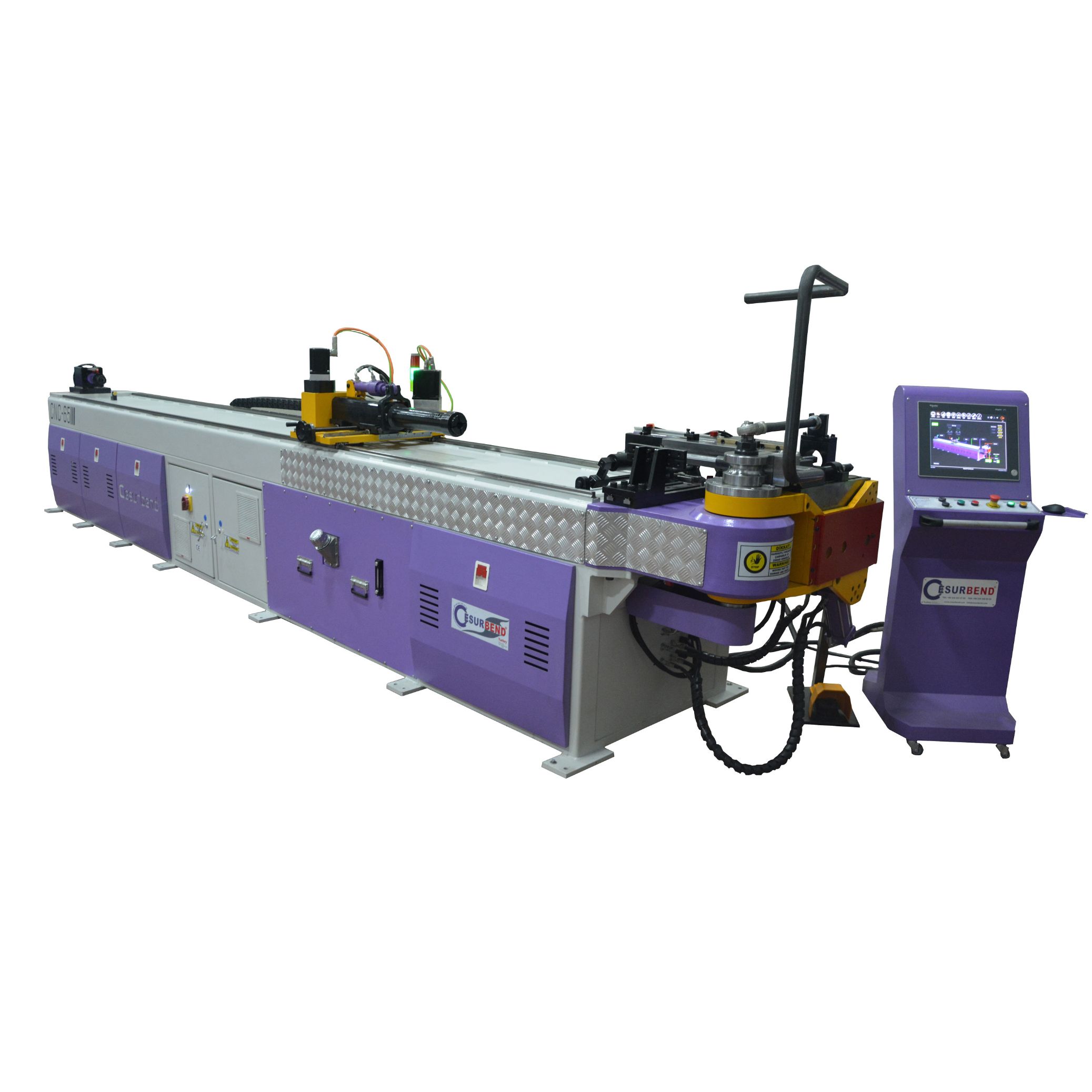 PBCNC-38 CNC Pipe/Tube/Profile Bending Machine with Mandrel
• New Design Body
• Electrical Accessories are SCHNEIDER mark
• Electronic overload protection system Available
| Model: | PBCNC-38 |
| --- | --- |
| Capacity of Pipe Ø x Wall | Ø38 x 3 mm. Steel |
| | Ø38 x 2 mm. St.Steel |
| Pipe/Tube Length Capacity | 4000mm |
| Max.Bend Radius [R] | 250mm |
| Max.Bend Angle | 5-185° |
| Bending Speed (rev/min) | 0-8 |
| Bending Speed (sec) - Bending | 150 deg/sec |
| Bending Speed (sec) - Rotary Speed | 200 deg/sec |
| Bending Speed (sec) - Feeding | 1000mm/sec |
| Accuracy - Rotary | ±0,010 degree |
| Accuracy - Feeding | ±0,01 mm. |
| Accuracy - Bending | ±0,010 degree |
| Rotary Servo Motor [Axis-B] | 0,75kW Schneider |
| Servo Feeding Motor [Y-axis] | 1 kW Schneider |
| Hydraulic Power | 5,5 kW |
| Max.Pressure | 120 bar |
| Capacity of Oil Tank | 100 L |
| W x L x H (mm) | 1200x4500x1700 |
| Weight | 2500 kg |
CNC – CONTROL General Features
• 22" Industrial PC colourfull touch screen –SCHNEiDER
• 1000 different program Capacity(Each program has 16 different Bend Angle)
• Automatic and Manual Operational Options
• Safe working conditions (Error Messages)
• Foot Pedal Control for Safe Starting
• Controlling of Parameters by SETTINGS button
• Language Options :English /Turkish and simple interface)
• Drive and display communication protocols can open (drive) and modbus TCP / IP (Display)
• Bending motion on the screen, present sensitive monitoring simulation
• Protection; the security code for data adjustment and pre-choosen Operation features.
• Alarm feature ( provides big efficiency in failure situations)
• All components in machine automation will be SCHNEIDER Brandcan remote the machine from far away with mobile, tablet or computer
• The Industrial PC colourfull touch screen has an ability for 3D preview and prevent crashing
• Automatically calculation of length of pipe with the help of recipe program
• The speed of Servo motors can be arranged on the screen
• The machine Allows to storage Pre-prepaired recipe with USB key input
Mechanical Properties;
• [C-axis ]The bending arm is controlled by hydraulic piston and chain spindel
• All assistive motions are hydraulic. (mandrel, base, clamp, skidder,pens and mil carrier).
• Servo motor and carrier (Axis-Y). Servo motor and the control of rotation axis is (Axis - B). SCHNEIDER which allow high accurcy and speed is used as brand for servo motor, servo drivers and motion controller.
• Hydraulic Clamping Movement / CLAMP displacement adjustable
• Hydraulic Slider Movement (supports tube as bending)
• Hydraulic Flexible Ball Mandrel Retraction
• The bending process is followed by cubic sensors
• The hydraulic oil is cooling down by electrical fan
• Mechanical guaranty 1 (one year)
• Cesurbend spare parts and service guaranty is for 10 years